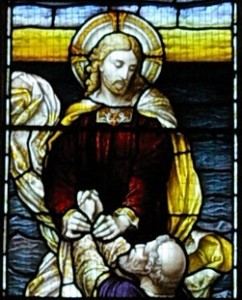 St Peter's Parish Church is the spiritual home of the Church of Ireland community on the Antrim Road in north Belfast.  Although we are Anglican in our worship and governance, we welcome people from all other denominations.  We are both catholic and protestant, and so we hope to appeal to all people who are seeking to encounter and praise the Risen Christ.
For regularly updated information about our parish worship and activities, please visit our Facebook page, and read our monthly Parish Notes magazine.
CLICK HERE FOR INFORMATION RELATING TO THE CORONAVIRUS.
Our community exists because of Jesus of Nazareth who was born in the Middle East two thousand years ago. We believe that he is the Son of God, and that God is most fully revealed to us through him. Through his miracles, teaching, and example, he enriched the lives of the people who believed in him. Through his victory over death and darkness, and through the outpouring of the Holy Spirit, he gives us the power and the authority to help other people just as he did.  Therefore the purpose of St Peter's is enable us to encounter Jesus, to learn more about him, to deepen our love for him, and to strengthen our desire to help others in his name. This is our greatest challenge, and it is our greatest reward.  We warmly invite you to come to St Peter's and worship the him with us!
St Peter's i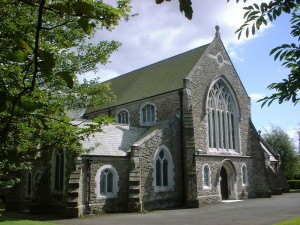 s located beside the Lansdowne Hotel, not far from Belfast Castle. Beautifully constructed using Scrabo sandstone at the very end of the 19th century , and extended in the early 1930s, the church is furnished to a very high standard. Consequently it has been described as "a slice of a cathedral".  In addition to the original fixtures and furnishings, St Peter's now also contains several items from Belfast Castle's former Chapel of the Resurrection, and the former  St James' Parish Church, which is located further down the Antrim Road towards the city centre.
If you would like to learn more about Anglicanism, then please visit the website of the Diocese of Connor, the Church of Ireland, and the Anglican Communion.
If you would like to familiarise yourself with the General Data Protection Regulation (GDPR) as it applies to the parish, please read our Data Privacy Notice.
St Peter's church is located in the leafy suburbs of north Belfast, at the junction of the Antrim Road and the North Circular Road, adjacent to the Lansdowne Hotel. There is car parking space in the church grounds, entered via Fortwilliam Drive. Our location is marked on the Google map below.
---
---