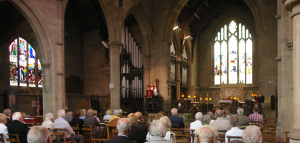 We want our traditional worship to be meaningful.
Our services use the structure and contents laid down in the Book of Common Prayer. This is called the "liturgy". Some services have been used in Anglican churches for hundreds of years, whilst others have developed in the last fifty years. Some services use old language (such as you would read in the King James Bible) whilst others are in modern language that we would speak today. Some services contain a lot of singing, whilst others are entirely said. Some services are very formal, whilst others are more relaxed and interactive. Whatever the service is like, we want you to be drawn into the genuine worship of God through our liturgy.
We want you to be involved.
The word "liturgy" means "work of the people", and so we encourage the members of the congregation to understand that they are active participants in our worship, rather than passive spectators. Whether through the responses that the congregation says during the prayers, or singing hymns, or engaging with an interactive sermon, or having a practical role in our worship, we want everyone to feel included. Each week several members of the congregation introduce the service, read the Bible, and lead the prayers. Other members assist in a logistical or ceremonial way. If you would like to volunteer to help, then please speak with the Rector.
We want you to encounter God.
Although different people come to church for different reasons, one primary purpose is to join with other people who want to express and deepen their love for God and for other people. Despite God being everywhere, and even though we can worship him at all times and in all places, there is something special about meeting together with other believers, in order to praise him. We hope that through the sacraments, the Bible readings, the sermon, the prayers, the hymns, and even the moments of silence, you will experience God speaking to you.
We want you to worship with us regularly.
We should not think of the Church as a building that we go to on occasional Sundays. Rather, we are a family of people who love and serve the Lord. As with all families, it is important that we meet together regularly and frequently.  There are regular services of worship every Sunday and Wednesday, and occasional services throughout the year. You are welcome and encouraged to join us as often as you can at the following times:
Sunday 9am
At 9am on Sunday morning we have Holy Communion. There are no hymns at this service, and it lasts for around 40 minutes. There is an informal discussion on the Bible passages for the day, to which everyone is welcome to share their thoughts, but it is perfectly fine to simply listen. Refreshments are served afterwards.
Sunday 11am
Our main act of worship is at 11am on Sunday morning. The service alternates each week between Holy Communion and Morning Prayer. This service is more formal than the others, and usually we sung four or five hymns. It is usually finished shortly after midday. Refreshments are served after the service every other week. Children stay with their parents in the church for about ten minutes, before going to the adjoining Halls for Sunday School.
Sunday 6:30pm
At 6:30pm on Sundays we have a range of different services, including Evening Prayer, Compline, the Late Evening Office, and Holy Communion. On the first and third Sundays of each month these services are led by our Choir, whilst the second, fourth, and fifth Sundays are less formal. No service lasts more than 30 minutes.
Wednesday 10:30am
Our regular mid-week service is at 10:30am on Wednesday morning. This is always Holy Communion, and includes an informal discussion on the Bible passages. There are no hymns at this service, at it lasts for around 40 minutes. There are always refreshments served afterwards.
Holy Days
Throughout the year we commemorate important people and events in the history of the Church, such as St Patrick. These Holy Days fall on the same date each year, but sometimes we transfer them. If they are on a Sunday, Wednesday, or Thursday, then we celebrate them on those days. If the date falls on a different day, then we often transfer them to the Sunday or Thursday which precedes them. These services last for around 30 minutes. Occasionally we celebrate the Holy Day on the nearest Sunday, so as to encourage as many parishioners as possible to join us.
---