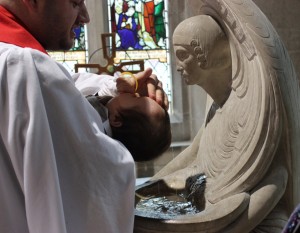 Through baptism, a person joins spiritually with the Body of Christ and becomes a member of the Christian Church.  It is a therefore a public declaration both of a person's faith in the God, and of their decision to follow the way of life taught by Jesus.

If you are not already a regular member of our congregation, then please join us for worship in St Peter's at any service that suits you.  Following the service, please mention to the Rector that you are considering a baptism, and he will arrange a time to meet you to discuss the matter in private.

Please note that there are no baptisms in St Peter's during Advent (the four weeks prior to Christmas Day) and Lent (the six weeks prior to Easter).

If you are an adult who would like to be baptized, then we would expect you to be a member of the congregation in St Peter's, a regular subscriber to parish funds, and be seeking to live your life according to the teachings of our Lord Jesus. This is not a test to see who is fit for baptism and who is not; rather, it should simply be understood that a request for baptism must flow from an existing faith that is already expressed through a Christian lifestyle and Church involvement.

If you want your child to be baptized, then we will rely upon the sponsors (parents and god-parents) to make promises to raise  the child within a Christian environment. In practice, this means that a baptized child should be brought to church each week, and that they should be encouraged to read the Bible and to pray at home.  Baptism is therefore much more than a rite-of-passage for new-born babies and must therefore not be undertaken lightly.

There is no fee for a baptism in St Peter's. However, it is the custom in St Peter's for a donation to be made to our Benevolent Fund, which helps parishioners who are facing financial hardship. By this first act of generosity, there is a direct link between committing your life to Jesus Christ, and helping people in need. We recommend a donation of £40. If you are writing a cheque, please make it payable to "Parish of St Peter & St James, Belfast".

Please click here to fill in the Baptism Registration form if requested to do so by the Rector.
---
Thanksgiving following the birth/adoption of a child
The Rector will be happy to lead a short service of thanksgiving within the few months following the birth/adoption of a child. This can be conducted in the hospital, or at your home, or at St Peter's, as you and the Rector think most appropriate. Please contact the Rector directly to arrange this at brianlacey@stpeterbelfast.org or 90777053. Please note that this short service is neither a prerequisite nor a replacement for baptism.