Our Parish Halls can be hired by individuals and organisations, whether for community or commercial purposes, for either one-off or regular events. You will be required to sign a contract. In all cases you will be asked to arrange your own insurance, and you may also be asked to provide evidence that you have been given clearance by Access NI to supervise children.   We may also ask for a key deposit if necessary. Please note that any activities which contravene Christian teaching and practice are prohibited.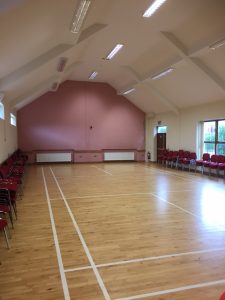 The Main Hall (left) costs £55 for a 3 hour session, with any additional hour thereafter costing £20.  The room is approximately 17m x 8m and can comfortable hold 120 people sitting.
---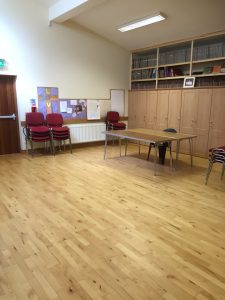 The Minor Hall (right) costs £30 for a 3 hour session, with any additional hour thereafter costing £7. It is approximately 7m x 7m and can hold 40 people sitting. There is a hatch between the Minor Hall and the Kitchen.
---
T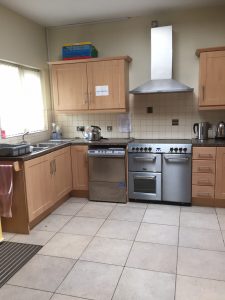 he Kitchen (left) has an electric hob and oven, a microwave, a fridge, a toaster, kettles, and assorted utensils.  It costs £10 for a 3 hour session, in addition to the fee for either the Minor Hall or Main Hall.
---
There are also separate toilets for men and women, and a toilet with disabled access and a changing mat for babies.
For further information please contact our Parish Secretary, Mrs Anne Cromie by  emailing stpeterandstjames@outlook.com or phoning 02890 776 706. Anne will explain the terms and conditions, and she can arrange for you to see around the premises to see if they suit your needs.
If you would like to apply to book the Halls, then please print off one the appropriate form below, and  return it to St Peter's Parish Office, Fortwilliam Drive, BT15 4EB.
One-Off Event Application
Regular Event Application